Wranglestone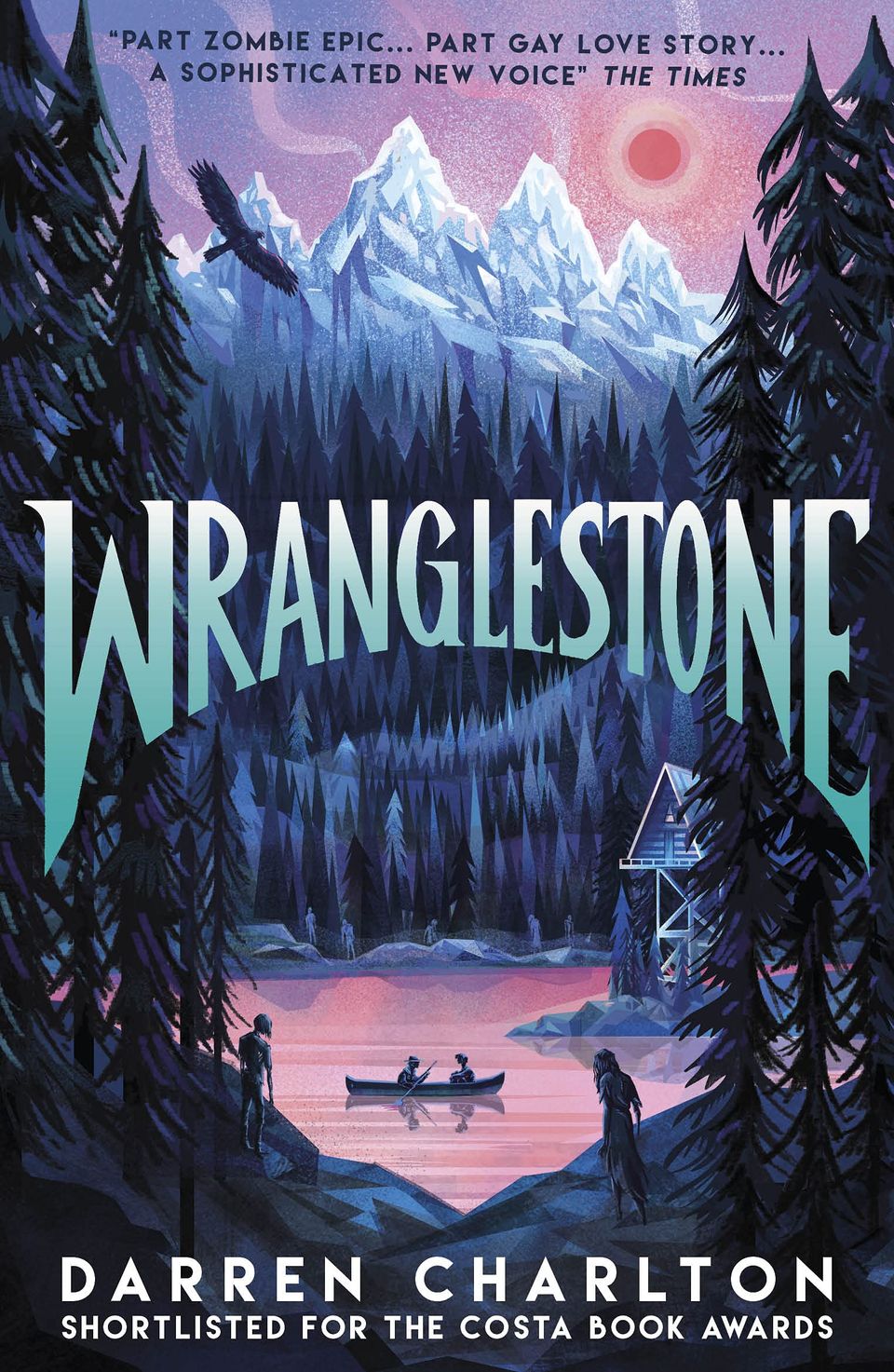 A world set on its head by a zombie apocalypse; an enclave of humanity surrounded by dangerous terrain; a sheltered young man coming of age and searching for his place in his community; a community with many secrets. This is the world that author Darren Charlton has created in Wranglestone, an engaging Young Adult (YA) novel first published in 2020 and shortlisted for the Costa Book Awards.
From the publisher:
🖊️
The island homes of Wranglestone offer safe haven from the Dead, until winter comes, when nothing stops them from crossing the lake's frozen waters…

When homebody Peter, puts the camp in danger, he must help rancher Cooper, the boy he's always watched from afar, herd the Dead from their shores before the lake freezes. But as love blossoms, a dark discovery reveals the sanctuary's secret past. One that forces the pair to question everything they've ever known.
It is always a good recommendation when I'm able to sit down and read a book cover-to-cover in one sitting. This is precisely what happened for me with Wranglestone. The blizzard outside may have contributed to the overall atmosphere, but the pacing of the story and a couple of unexpected twists kept me engaged and turning pages. I do not typically read a great deal of YA material and zombie tropes are hit-or-miss for me. Charlton's take on the latter was refreshing, using the threat of zombies primarily as a part of the setting, prompting interpersonal conflict and engagement between characters. This was a far better use of the idea, in my opinion, than the more obvious jump scares, body horror, or race-for-survival scenarios that might also have been used.
The pacing of the story was pleasantly quick. There was plenty happening that kept my interest and engagement with the plot and characters high and included moments of reflection and thoughtful development. In the last third of the story the pace felt a little rushed at times and I found myself trying to keep track of where and how certain specific events were happening, but the narrative held together well.
The main characters, especially Peter and Cooper, are far from perfect but were easy to love and cheer for throughout the book. Their budding romance is tender, sweet, and refreshingly appropriate for teenage protagonists in a YA novel. It is a lovely, healthy depiction of a gay romance between two young men. I was impressed with the variety of responses that the relationship between Peter and Cooper elicited from their community. Charlton wrote them with more nuance and care than I have seen in other writing of similar type and reading level, though I admit my experience here is limited.
There were a few moments when I questioned whether or not Peter's knowledge of real-world twenty-first century technology and idiom were really suitable for a 16-year-old who had grown up in a post-apocalyptic enclave, but these did not break my immersion in the Wranglestone setting in a truly problematic way. I was also surprised at how important some characters became in the latter half of the book and wished they'd been given a little more time and development in earlier sections. I felt as though I was both getting to know them and engaging with them as suddenly important all at once, but again, this was not a major stumbling block for my reading.
Charlton's descriptions of the setting are evocative and reveal his great love of North American nature and American national parks. On a few occasions his choices of vocabulary when describing the how the characters experienced travel and events in the wilderness felt repetitive. A good, illustrative turn of phrase used more than once in such a short book can, for me,  become and break in the flow of reading. I become distracted with whether the repetition is meant to draw my attention to something or whether it's an unfortunate editorial oversight.
Plot spoilers in here
There is interesting potential for a theological reflection in this story. The Wranglestone community was founded as a refuge for people affected by the zombie plague and were changed, but not into the mindless, destructive zombies that most became. There was hope that these people would be able to live and work alongside uninfected humans and that potential for a new shape for human society would be demonstrated here. Quickly the community killed, chased off, and excommunicated those they were meant to be integrated with, for fear of the difference they represented.

How often has the Church demonized, killed, chased off, and excommunicated those who, on reflection, are the ones who ought to be drawn closest to its heart? In addition to a mystery, and adventure, and a beautiful love story, Wranglestone is also a comment on how and why communities with a certain mission can lose their way and become the antithesis of their intended selves. It also offers a depressing view of the lengths to which people will go to maintain perceptions of security, power, and control. Fortunately, Wranglestone also gives the reader a glimpse of how a community might begin to correct its course when such an error is recognised, even if it includes great trauma, conflict, and changing relationships.
Overall, Wranglestone was a fun, engaging read and I would heartily recommend it to anyone looking for some light suspense/horror with a zombie theme, a wholesome gay teen romance, all wrapped up with a few unexpected twists and turns!