Six Crimson Cranes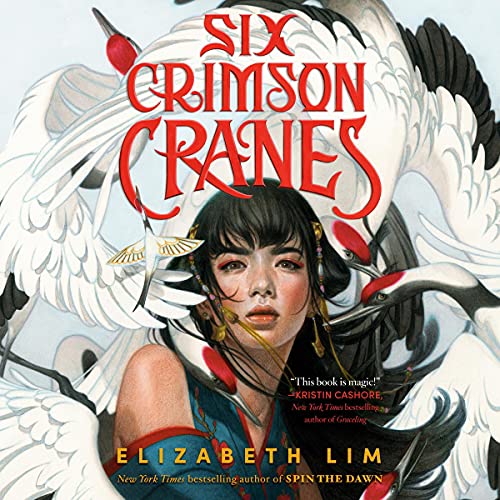 This is a wonderful retelling of a classic fairytale by Elizabeth Lim. The audiobook is excellently narrated by Emily Woo Zeller. From the publisher:
Shiori'anma, the only princess of Kiata, has a secret. Forbidden magic runs through her veins. Normally she conceals it well, but on the morning of her betrothal ceremony, Shiori loses control. At first, her mistake seems like a stroke of luck, forestalling the wedding she never wanted. But it also catches the attention of Raikama, her stepmother.

A sorceress in her own right, Raikama banishes the young princess, turning her brothers into cranes. She warns Shiori that she must speak of it to no one: for with every word that escapes her lips, one of her brothers will die.

Penniless, voiceless, and alone, Shiori searches for her brothers, and uncovers a dark conspiracy to seize the throne. Only Shiori can set the kingdom to rights, but to do so she must place her trust in a paper bird, a mercurial dragon, and the very boy she fought so hard not to marry. And she must embrace the magic she's been taught all her life to forswear - no matter what the cost.
I had a great time being transported into this retelling of "The Wild Swans" set in a world inspired by Chinese history and mythology. Dragons from the depths of the ocean, a shadowy sorceress, family curses, a missing princess... This was great fun from start to finish.

There were a few points where the excellent, accessible writing bumped up against some of the "because fairytale" details in a way that felt awkward. Didn't derail the story or anything but felt like a bump in an otherwise very smooth ride. There is a sequel, but it also felt like a somewhat hurried setup at the end of this book. I think this one would work perfectly as a standalone, if that's what a reader was looking for.

Definitely recommended reading for anyone who likes fairytale retellings and magical adventures!