Seasons of Wonder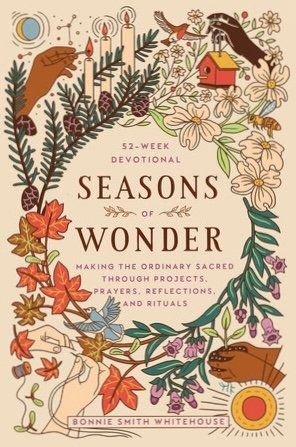 Seasons of Wonder: Making the Ordinary Sacred Through Projects, Prayers, Reflections, and Rituals is a forthcoming devotional collection by Bonnie Smith Whitehouse, being published on 15 November 2022 by Convergent Books. This is a collection of theological reflections, prayer, anecdotes, commentary on Anglican (Episcopalian) traditions, and activities organized into 52 weeks. There is a strong focus on the ministry of the baptized in cultivating practices that engage our faith and a connection to the rhythms and cycles of the natural world. While the writing is accessible and intended for family and multigenerational use, it is not simplistic and there is much food for thought (and prayer!) here.
From the publisher:
Seasons of Wonder is designed to allow you to gather together weekly with your loved ones and expand your understanding of divinity, specifically the radical but faithful idea that everything is sacred. This devotional is designed around weekly contemplative activities as well as interactive and transformative practices that connect us to surprise, awe, and wonder, including uncomplicated crafts that honor creation; simple recipes to make together; conversation guides to cultivate the gifts of storytelling, deep listening, mystery, and community; accessible introductions to liturgical observations and rituals; plus four additional weeks of activities that you can incorporate whenever they're appropriate, such as birthdays, sick days, or when you're traveling together or blessing your home.

In February readers might make a hiking stick to embark on a holy pilgrimage (even if it's just in the neighborhood) and discover the meaning of Ash Wednesday, while in the summer months they can learn how to cherish the Earth's seasons of holy pause by making prayer cards, bath salts, or family time capsules alongside the reading of peaceful liturgies and ancient prayers.
I think of books as extended comments in ongoing conversation. In any conversation it is useful to know with whom one is speaking, in this case the author. Bonnie Smith Whitehouse is a lifelong Episcopalian and a professor of English and is based in Nashville. She describes herself as a pilgrim who likes to walk, wander, and contemplate. Smith Whitehouse also believes in crossing borders, especially those erected around conceptions of knowledge, creativity, and which separate mind and body in the human creature.
This willingness to trespass across traditionally-held boundaries and to understand humans as holistic creatures that are more than the sum of their parts is evident in Seasons of Wonder. Smith Whitehouse walks the reader through the twelve months of the secular year, offering themes, foci, and activities for each one. These offerings are reflections on the intersection between the natural world, the Christian tradition, and the realities of everyday life.
The introduction offers a very fine overview of the solar and liturgical years, their associated calendars, and the liturgical theology that goes along with the church's rituals. With this context in place, Smith Whitehouse offers several ideas for how to engage with the year and liturgies, including journaling and group reflections. Throughout the book, explicitly and implicitly, is reinforced the idea that Christians do not need clergy to pray. I detected no anticlerical sentiment in the writing, only a strong and vocal desire for the baptized to take up the ministries and practices which belong to all Christians and, in many communities, have been forgotten.
The following twelve chapters each correspond to a month of the year. Each month comes with a theme, such as January's "transcending dualities," and includes suggestions for how to engage this theme. These might be activities, discussion topics, crafts, recipes, and so on. Easily taken up in family or small group contexts, many adaptable for individual practice if desired. These practices offer a clever, thoughtful, track of engagement that runs parallel to the liturgical practices of the church. Reflection and contemplation between Sundays and feasts that give the Christian spiritual tradition a place of purchase in daily life for those who wish to offer it.
In short, this book is a refreshing delight. It could be so useful, especially in the wake of the pandemic, for those wishing to cultivate a habit of the domestic church and "everyday Christianity". I highly recommend Seasons of Wonder for anyone looking to develop a habit of engagement with the Christian tradition outside of formal church-based gatherings. Ideal for families or small groups, but readily adaptable to children's ministries, classrooms, or could serve as the basis for a new group entirely if there were those willing to meet once or twice monthly to engage with the ideas and suggestions in this very fine devotional collection.
---
I was provided a free Advanced Reader Copy (ARC) of Seasons of Wonder by Convergent Books via NetGalley.com in exchange for an honest review.