Alchemy of Moonlight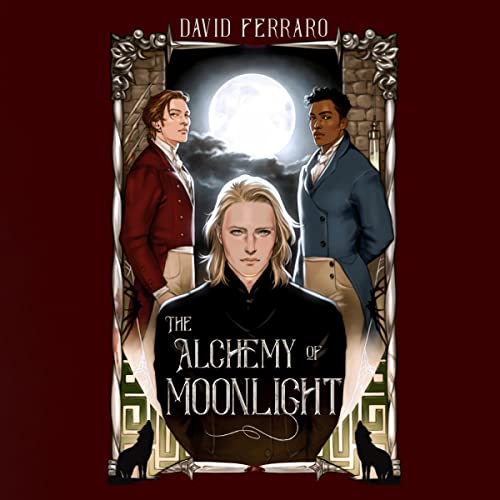 The Alchemy of Moonlight by David Ferraro is a great homage to the gothic horror genre that includes some male/male romance in a love triangle and a genuinely creepy atmosphere. From the publisher:
When Emile's aunt declares he must marry or be disowned for being gay, he runs away to hide as a servant in Count Montoni's mansion. In their service, Emile tends to the family who all suffer a strange affliction on the full moon. And after overhearing suspicious family arguments, he finds a body on the estate, drawing the attention of a handsome doctor as well as the count's charismatic nephew, Henri.

Before Emile can sort out his affections or unravel the growing Montoni family mystery, his identity is revealed and his aunt comes to collect him.

When she arrives, Count Montoni forces everyone to depart to the remote Udolpho Castle—where there are no witnesses and no chance for escape. There, Emile realizes that he will have to risk his life to find the love he deserves—and survive the Montoni family.
As described in the blurb, Emile flees his home and seeks to remain hidden from society until he comes of age and can claim his inheritance on his own terms. He is quickly embroiled in a love triangle with two older, dashing men. As he tries to sort out his heart, Emile stumbles across hints of some truly creepy goings-on around his new home. The plot gets thicker and thicker as he investigates.

The Alchemy of Moonlight creates a great atmosphere with plenty of creepy moments. There is a genuine feeling of dread and, though many of the tropes are familiar and predictable, they are enjoyable just the same. The writing and pacing are good and I found myself looking forward to coming back for the next instalment. I was also impressed with how Ferraro manages to convey the depth of tension and feeling in the love triangle in ways that keep the book firmly in YA-acceptable territory.

The audiobook narration is well done and makes for a pleasant listen.

The book isn't perfect, however. The characters felt a bit flat. Emile exercised very little agency until the last pages of the book, which was disappointing for a main character with a good setup. There were a few plot points that felt too convenient, without enough explanation to make them feel genuine. In particular, the ending of the book was more seamless than I thought at all realistic—even in a gothic novel full of mystery and the occult—given everything else going on. Sometimes too neat a package is as unbelievable as one with a hundred loose ends.

Overall, this was a good read and a nice nod to the gothic horror genre.