Nettle & Bone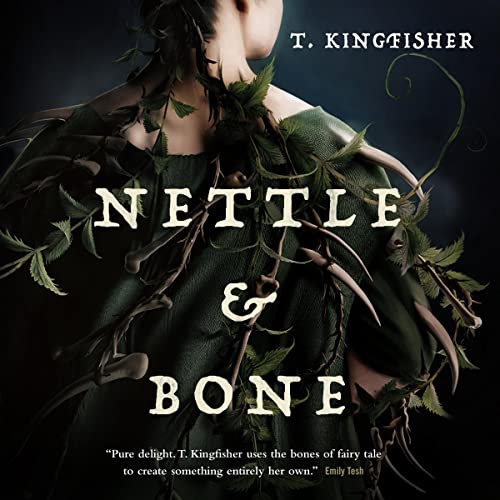 Nettle & Bone by T. Kingfisher is just great fun. It's a short (243 pp.) standalone novel with strong traditional fairy tale elements. From the publisher:
Marra never wanted to be a hero.

As the shy, convent-raised, third-born daughter, she escaped the traditional fate of princesses, to be married away for the sake of an uncaring throne. But her sister wasn't so fortunate—and after years of silence, Marra is done watching her suffer at the hands of a powerful and abusive prince.

Seeking help for her rescue mission, Marra is offered the tools she needs, but only if she can complete three seemingly impossible tasks:

—build a dog of bones
—sew a cloak of nettles
—capture moonlight in a jar

But, as is the way in tales of princes and witches, doing the impossible is only the beginning.

Hero or not—now joined by a disgraced ex-knight, a reluctant fairy godmother, an enigmatic gravewitch and her fowl familiar—Marra might finally have the courage to save her sister, and topple a throne.
Marra was born too late in her family line to be a valuable princess, so she was raised in a convent. However, after years of seeing her "luckier" older sister suffer at the hands of her powerful, abusive prince husband, Marra takes up a mission to save her. Her travels take her through graveyards, goblin markets, give her a dog made of bones, and friends in a disgraced former knight and a witch whose chicken familiar contains a demon.

The characters are easy to engage with, the quest/plot is compelling, and there are enough "fantasy and magic make for weird experience" moments that I laughed out loud more than once.

I read the audiobook and the narration is well done and easy on the ears.

This was my first book by T. Kingfisher and I will absolutely be looking for others.

If you're looking for a fun, light summer read, Nettle & Bone is definitely worth your time!